10 Best Airbnb in Dallas: A bustling metropolis, Dallas is Texas' third largest city. It has a variety of offerings that cater to all kinds of travellers. For foodies, the city's Tex-Mex cuisine and a range of exceptional restaurants is a major draw.
For those who love to party, Dallas offers an exciting nightlife scene. It is also home to impressive museums, shops, and areas like the artsy Bishop Arts District.
Couple that with lush parks and historic neighbourhoods. Owing to such incredible offerings, it has a thriving tourist industry and a range of accommodation options. For those who like to have a home away from home vibe, staying at an Airbnb in Dallas is a great idea.
From cosy properties well suited for couples to expansive accommodations that can fit an entire family, there is a variety of Airbnbs to choose from here. Dive into our list and pick the best Airbnb in Dallas for your next getaway: –
The Custom House #1
This picturesque property features a modern look with chic interiors. The open layout lends it an expansive feel while the polished concrete floors and wooden elements add warmth. Its central location enables guests to easily access areas such as Downtown, M-Streets, and Deep Ellum. There are also numerous parks, cafes, bars, and restaurants nearby. The Airbnb can fit up to eight people with its three bedrooms and extra floor mattress. It also features 2.5 baths. What's more? You can enjoy amenities such as Wi-Fi, TV, air conditioning, and access to a washer and dryer.
Charming Cabin #2
Looking for a serene vibe? Head to this beautiful cabin located only a short drive away from Downtown. It's set in the backyard of the superhost and exudes a countryside feel. This is a cosy property that features a main bedroom, and another room that has a bathroom and kitchenette in one. You can make use of the fridge, the microwave, and coffee-making supplies that are available here. You'll have all the necessities here and can enjoy a rustic stay experience. The verdant surroundings make it a haven for nature lovers.
The Slater Saved by the 90s #3
Soak in the nostalgic vibes at this 90s-themed property. Located in Lower Greenville, it features décor with plenty of references to 90s shows such as The Simpsons. From the diner-style seating area to neon hues and retro video games, it has a range of features that will transport you back in time. It has two rooms and can accommodate up to six guests. There's also a full kitchen, perfect for cooking your favourite snack. What's more? There are many restaurants within walking distance from the rental. Amenities such as Wi-Fi and air conditioning are also available.
The Vintage Airstream #4
Only 15 minutes from Downtown lies this impressive Airstream. If you're seeking a close-to-nature vibe within the city, this 32′ vintage may be the perfect option. It's parked in the owner's backyard which features a beautiful lush ambiance. It features wood panelling that lends a warm feel. It's ideal for two people and has a kitchen and a bathroom. You can enjoy making your favourite meals, relish your morning coffee on the lawn chair or watch your favourite movie inside. With its convenient location, it's easy to explore restaurants, shops, and numerous natural attractions nearby.
The Extraordinary Treehouse #5
Have you always fancied living in a treehouse? Head to this charming retreat in Little Forest Hills. Nestled in East Texas, this treehouse is an oasis of tranquillity. It houses one bedroom, one living room, a full kitchen, and a loft. It features an impressive design with stone and wood features, modern furniture, and eclectic art. You can soak in beautiful forest views from the 2-story floor-to-ceiling windows, walk on the wooden bridge, relax by the fireplace, or explore a forest of tall Japanese maple trees, there is a plethora of activities to indulge in here.
The Luxe Warehouse #6
Looking for a bit of luxury to pamper yourself? Head to The Luxe Warehouse in downtown Dallas. It houses two spacious bedrooms, a kitchen, and three bathrooms. With its five beds in total, it can accommodate up to 10 people easily. You can enjoy amenities such as free Wi-Fi and TVs. Its concrete floors, earthy hues, and twinkling lights exude elegance. There are even bikes hung up on walls that you can use. What's more? Being located downtown, you won't run out of activities to enjoy and places to explore.
The Tiny Blue House #7
If you're an artsy person, opt for this beautiful property located near Bishop Arts District. Exuding Southern charm, it features wooden floors and cosy furniture. From enjoying your morning coffee on the patio, and cooking your favourite meal in the kitchen, to exploring the numerous shops, bars, and restaurants in the historic area of Oak Cliff, there is plenty to keep you entertained during your stay here. Bishop Arts District is only a short walk away.
The Montclair House #8
This charming Airbnb exudes vintage vibes. Located in Winnetka Heights close to the Bishop Arts District, this house has lavish features such as a pool and a jacuzzi. Its white-painted furniture and large windows that allow ample natural light inside add to its desirability. You can enjoy plenty of amenities such as free Wi-Fi, cable TV, and a kitchenette with a fridge, a coffee maker, and a microwave. After a day of exploration, you can enjoy some quality sleep in its comfortable queen-size bed.
Deep Ellum Cowboy #9
Travelling with a large group? This expansive four-story townhouse in the vibrant Deep Ellum neighbourhood may be a perfect choice. Sprawled over 2,300 square feet, it has three bedrooms that can fit up to 10 people, a beautiful roof deck, a living room, and a kitchen. You can Netflix and chill on the curved couch of the living room, cook your favourite snacks in the kitchen that features stainless steel appliances, and play one of the games from the vintage arcade cabinet that has over 1000 games, there are many fun activities to indulge in here. What's more? There are many music venues, boutiques, and restaurants only a short walk away.
Chic Colourful Home #10
The chic interiors of the house appeal to many artsy people. Located near Highland Park, it offers easy access to many attractions of Dallas. It has two bedrooms that feature retro décor, en-suite bathrooms, and queen-size beds. There's also a king bed on the third floor along with a spacious closet and a lavish bathroom.
The living room is one of the notable spots to hang out here, featuring an L-shaped couch, pink-patterned wallpaper, and modern décor. There's also a kitchen and a breakfast corner, perfect for enjoying a hearty meal in the morning.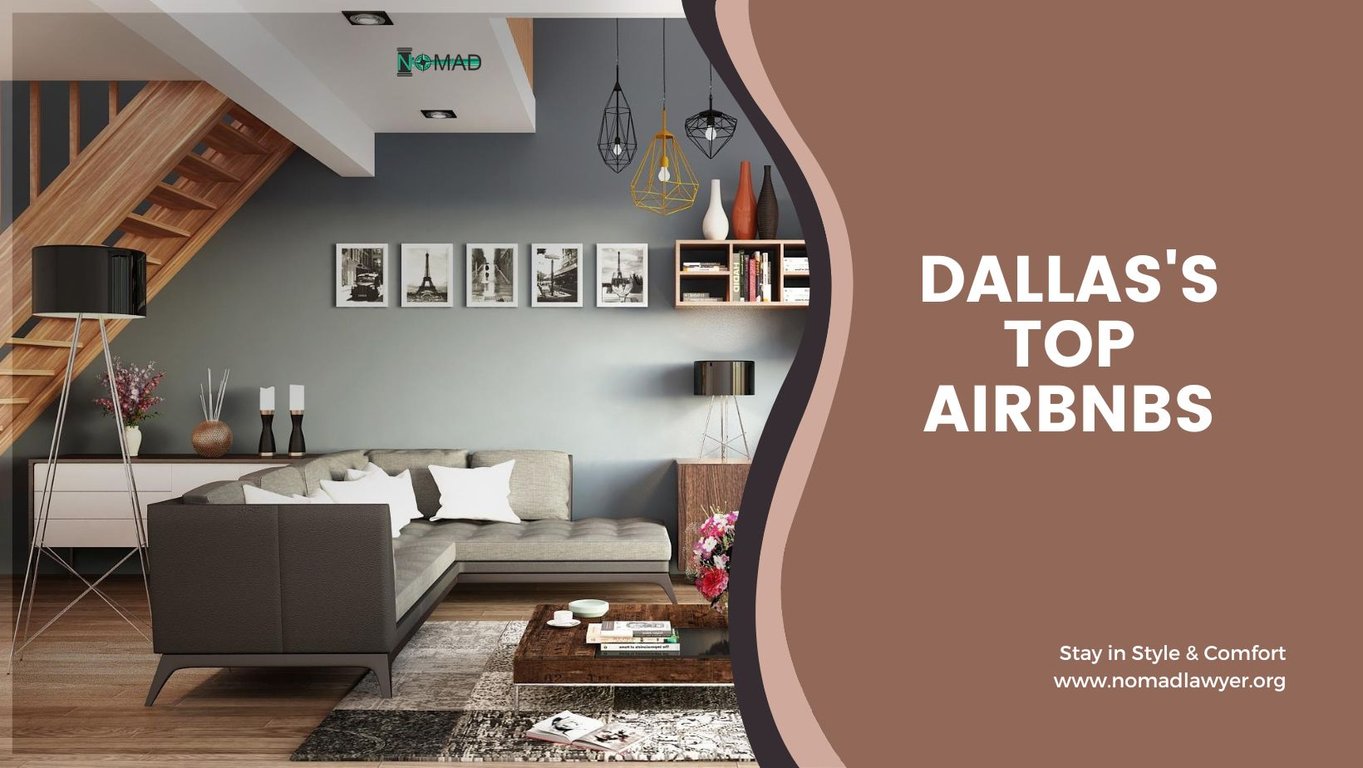 So, pick the one that ticks off every box on your checklist and get ready for an unforgettable vacation in this bustling city.
Follow us for more such insights!
FAQs: Best Airbnb in Dallas
Is Dallas TX good for Airbnb?
Dallas' thriving tourist industry makes it a great place for Airbnbs.
Recommended for you